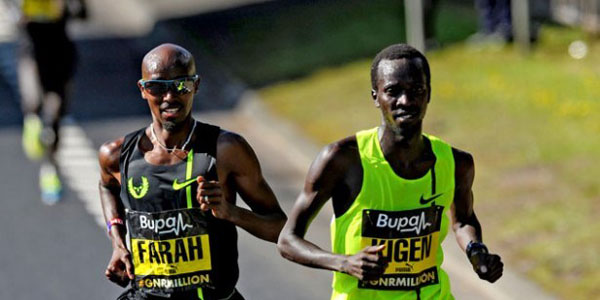 On a glorious September morning, Mo Farah (coach: Alberto Salazar) returned to the North East to make amends for his defeat twelve months ago, on the day that the Great North Run celebrated its one millionth finisher. Crossing the line in his trademark 'Mobot' pose, Farah outkicked Mike Kigen of Kenya to run 60.00, the fastest time ever recorded by a British athlete.
Farah, beaten in a sprint finish by Keninisa Bekele last year, becomes only the third British male to win the race, after a tussle with Kigen over the final few miles. A couple of times a slight gap started to grow as the Kenyan pushed on, however Farah fought back to ensure it came down to a sprint finish.
At that point there was only going to be one winner, as Farah kicked away to cross the line victorious, although agonisingly fractions of a second away from breaking the 60 minute barrier. Post-race, the double Olympic, world and European champion was delighted with the victory, and with the fact he's been able to turn a tough year around.
"Mike's a great athlete and he's in great shape, so he pushed the pace on and kept pushing and pushing. There were a couple of times when I was struggling but I managed to get back to him, and I knew if it came down to the finish, I could use my sprint finish.
"We haven't had a British winner for 29 years so it was great to be able to change that and win the race. The aim was to win rather than run a fast time, but today we did both.
"It's been a tough year. I have struggled, especially coming off the marathon and then getting sick and then missing the Commonwealth's. So to turn it around has been incredible. To win the two gold medals at European's, a week later break the British record at two mile and then to come here and win was incredible."
Continuing the great form that saw him win European Championship silver and bronze behind Farah this summer, Andy Vernon (Nic Bideau) finished sixth, taking almost two minutes off his personal best as he crossed the line in 62.46. This caps off a brilliant breakthrough year for Vernon, who has finally made the transition from the mud to the track and the roads. Also securing a top ten finish was Jonny Hay (Mick Woods), who ran 64.09 in ninth back up his good run over one mile yesterday.
There was victory and new a course record for Mary Keitany in the women's race, as she eclipsed Paula Radcliffe's 2003 time of 65.40 by a mere second to take victory by over two and a half minutes.
Returning from childbirth, the 2009 IAAF World Half Marathon champion was away and gone by the four mile mark, never taking her foot off the accelerator to continue to extend her gap on the rest of the field. However further back things were chopping and changing all the time, notably Gemma Steel (John Nuttall) catching Olympic marathon champion Tiki Gelana at the 15km mark. Within a matter of minutes Steel had pulled clear to secure second place and so it was all eyes on the clock.
Running solo for the last three miles, Steel pushed all the away to slice almost two minutes off her personal best with a 68.13 time, to move to number three on the British all-time list behind only Radcliffe and Liz McColgan. After a 31.26 personal best over 10km last month, Steel was expected to revise her half-marathon best, however perhaps not by quite so much. Afterwards, the delighted Brit commented:
"I felt really comfortably for the first ten miles and then picked it up a bit. It's a good performance today and I'm really pleased as it's been a long time coming."
On whether her future lies at the marathon, Steel added:
"I felt like today I was running the right tactics to run a marathon – I stayed in contention but didn't do anything silly for the first ten miles. I think I've definitely got it in me to run the marathon and today's definitely helped my confidence."
There were also strong runs by Charlotte Purdue (Bideau) who finished eighth in 71.43 on her half marathon debut, and Commonwealth Games marathon sixth placer Susan Partridge (Steve Jones) who clocked 72.28 two places further back.
In the women's wheelchair event it was a commanding victory for Shelly Woods (Jenny Archer), who notched up Great North Run victory number six in fine style. She crossed the line in 50.34 ahead of Jade Jones (Ian Thompson), who at the age of 18 was making her half marathon debut after winning medals at the Commonwealth Games and the IPC European championships this summer. Post-race Woods commented:
"I really enjoyed that. It was tough out there but I wanted to get out front and push myself. I was aiming for sub 50 and I was close, but I dug as deep as I could – it was good to win again."
In the men's event, Britain's Simon Lawson finished runner up once more, after a long battle with Jordi Madeira of Spain. In the end it all came down to a kick over the final 400m, where Madeira had more in the tank to victory in 43.02, four seconds ahead of Lawson.