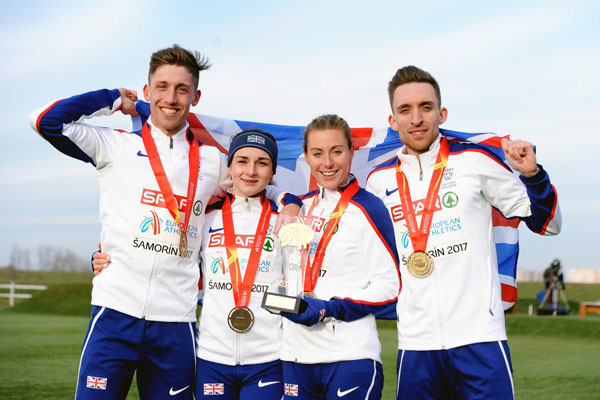 Samorin – Late replacement, Tom Marshall, led Great Britain to an historic gold medal in the inaugural mixed relay at the SPAR European Cross Country Championships.
Marshall anchors team to inaugural mixed relay gold in Samorin
After a memorable day of cross country racing, what a finale this race proved to be with excitement until the very last few strides as the Czech Republic's Jakub Holusa, the 2015 European indoor 1500m champion, closed in.
But Great Britain had already established a lead of four seconds on Holusa on the final changeover. With 300m left, Marshall began to tire a little but he – and the British team as a collective – opened up enough of a buffer, allowing Marshall to celebrate ten metres from the line as Holusa picked up speed to get ahead of the Spaniards.
Melissa Courtney, Cameron Boyek, Sarah McDonald and Marshall won by one second in 18:24 as the Czech Republic banked their first medal in the history of the European Cross Country Championships. They were led off by Simona Vrzalova who handed on to Filip Sasinek and then Kristiina Maki before Holusa brought them home.
By the end of the first lap lap, the medals was between Great Britain, the Czech Republic and Spain, who won bronze in 18:26 with a quartet of Solange Andreia Pereira, Victor Ruiz, Esther Guerrero and Jesus Gomez.
With each team handing over a bracelet instead of a baton, some runners wore it around their wrists while others held on to it.
The event was a great spectacle between 11 nations and at the first change, it was Vrzalova who was in front for the Czech Republic in 5:35 from Pereira (5:37) and Courtney (5:39). Boyek put Great Britain ahead on the second lap as the rest of the field were broken by what proved to be the leading trio.
oyek handed on to McDonald with the clock showing 9:37 from the Czech Republic and Spain in the same time before the lead at the bell was four seconds. McDonald was timed at 14:18 from Maki at the last change and it was Britain's to lose.
All the pressure was on Marshall but he stayed strong and gold was his and the team's just reward. "I wanted to win this so badly," he said. "Coming back up that home straight, there was no way I was going to let anyone past me."
It was some race for the Czechs who took in every second of their success. Sasinek said: "Getting a medal was a goal for us and we did not care so much what colour it would be."
And Holusa added: "I chose to run tactically as it was very cold and windy. I was thinking to chase the British relay member, however I decided it would be to risky and that is why I focused on reaching for silver."