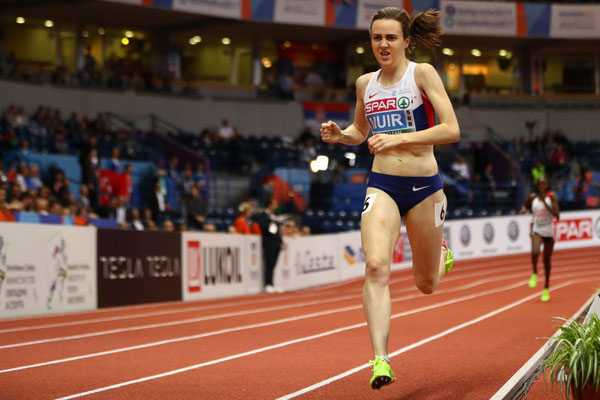 Laura Muir showed how much she wants to challenge herself this year after her sensational 2017 by opening her season in a mixed race on Sunday (7) at the GAA Miler Meet in Glasgow.
The Brit made a good start to her winter campaign, securing the Scottish national title in 8:37:21 in a race won by her training partner Sol Sweeney in 8:19.03. Muir will be targeting the IAAF World Indoor Championships in Birmingham twelve months after the European Athletics Indoor Championships in Belgrade where she won a sensational 1500m and 3000m double.
"The first kilometre was quite fast and maybe I got a bit excited at the start which made the end quite painful," said Muir. "But I am quite happy with it overall, even though I would like to run faster."
er time was almost eleven seconds outside her European record from Karlsruhe last year but these are early days for Muir, who is also deep into her veterinary studies.
She will be preparing hard with both her university work and her plans for Birmingham in two months' time where she will look to impress again. Her win here at the Emirates Arena in Glasgow was another step on the road to next year's European Athletics Indoor Championships at the venue where her events will be the hottest ticket in town.
Muir finished fifth overall and she will return to competitive action on Saturday at the Great Edinburgh XCountry where she will race in the 4x1km relay.
"It is great to get this under my belt," Muir told the Herald Scotland. "My training has been going really well this year, even though it has been difficult over the past weeks battling against the ice and snow. I am excited with what my training has been showing and by March, I should be ready to run something much quicker."