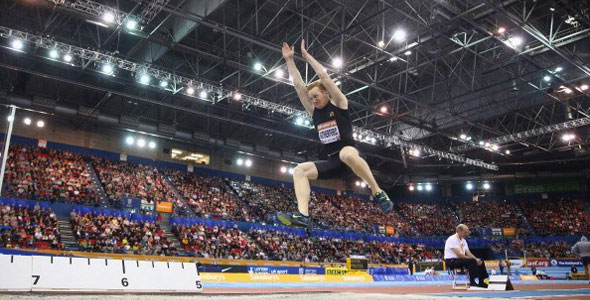 Olympic champion Greg Rutherford (coach: Jonas Tawiah-Dodoo) further etched his name into the history books last night as he leapt to 8.51m in San Diego, USA, to set a new British long jump record.
Rutherford was famously part of that magical night in the Olympic stadium, since dubbed 'Super Saturday', where British trio Mo Farah (Alberto Salazar), Jess Ennis (Toni Minichiello) and Rutherford all won Olympic gold in front of the adoring British crowd. But it was in the early season meet in America last night where Rutherford once again proved why he is Olympic champion, soaring to 8.51m (+1.7)  in round four, after an earlier jump of 8.18m.
Rutherford's old lifetime best of 8.35m comes from almost exactly two years ago, at a similar competition whilst away in American on a warm weather training camp, which certainly bodes well for 2014. In 2012, Rutherford returned to Europe to jump 8.32m in the Rome Diamond League, before leaping to 8.31m on that magical August evening inside the Olympic stadium to clinch gold.
With another home championships this year in the form of the Commonwealth Games in Glasgow, Rutherford will be hoping to please his many fans once more.
Greg has already confirmed he will be competing at the Sainsbury's Glasgow Grand Prix, which is taking place at Hampden Park just two weeks prior to the Commonwealth Games.