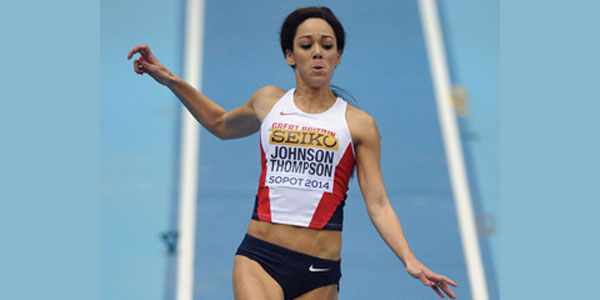 Katarina Johnson-Thompson (coach: Mike Holmes) was one of the stars of the final session at the IAAF World Indoor Championships after the multi-event specialist clinched silver in the long jump thanks to a personal best jump of 6.81m.
There were further silver medals for the men's 4x400m relay team, as well as bronze for Andrew Osagie (Craig Winrow) and the women's 4x400m team. However it was Johnson-Thompson's performance that got the ball rolling in Poland, and she admitted she didn't come into the championships expecting to take home a medal.
"A good day," Johnson-Thompson said. "It's hard to believe isn't it? I've done world junior championships, and now I've won my first senior international medal. Everybody knows I'm a heptathlete and I will be going back to the heptathlon.
"I just really can't believe it. I came here with no expectations at all. I thought if everyone has a bad day or somebody doesn't turn then I might be able to sneak a medal. It was unbelievable that I was winning but I'm so happy with a silver medal."
The day ended as it began with another silver medal for the Great Britain & Northern Ireland team, making it six for the championships, and leaving the team fourth on the medal table behind the USA, Russia and Ethiopia.
Rather fittingly it was the USA who denied a resurgent GB & NI quartet of Conrad Williams (Linford Christie), Jamie Bowie (Piotr Haczek), Luke Lennon-Ford (Christie) and Nigel Levine (Christie) the gold in the final event of the day, but it took a world indoor record to do so.
Luke Lennon-Ford said: "Obviously we're going to be a little disappointed. 2010 bronze, 2012 silver, it was the aim to get gold, but if it takes a world record to beat you, then what can you say? We ran two-tenths off the British record and every single person on the team ran their heart out. I can't ask for nothing more."
Following the disqualification of Marcin Lewandowski in the men's 800m, Osagie was upgraded to bronze and despite not being happy with his race, he was pleased to add another medal to GB & NI's tally.
"There was a lot of battling for the front in the first lap and I tried to stay out of it and pick my time to move and unfortunately got stuck.
"I was in fifth place with less than 100m to go and I saw him step off the track and athletes instinct was that's not allowed.
"Tactically I didn't run that well in the final and apart from the medal, which was from the DQ of somebody else, I haven't got a lot of positives to take away from the final. It's very bittersweet because I get on with Marcin (Lewandowski) very well on and off the track so it's going to be a bit awkward from now. I'm very happy to add to the medal tally for GB & NI though."
There was another stellar performance by the women's 4x400m team, with EIlidh Child (Malcolm Arnold), Shana Cox (George Williams), Margaret Adeoye (Christie) and  Christine Ohuruogu (Lloyd Cowan) adding bronze to the gold the team won two years ago.
GB & NI captain Eilidh Child said: "I'm delighted – I just wanted to come here and get a medal. We knew it was going to be really tough because the Americans had a really good team, Jamaica bought in two athletes, plus the Russians. We knew there would be four teams in the mix.
"The team last night with (Richard) Kilty and Tiffany (Porter), you felt a real buzz around the hotel. We've carried that on today and bought home a couple more medals."
After progressing to the men's 60m hurdles final earlier in the day, Andrew Pozzi (Malcolm Arnold) and William Sharman (Jerzy Maciukiewicz) finished in fourth and seventh place clocking 7.53 and 7.60 respectively.
On his fourth place finish, Pozzi said: "I've ran my three fastest times this season here, with a PB in the final and you can't ask for more than that. I keep on improving and I'm happy with this indoor season.
"It's difficult to take (to finish fourth), I was really looking for a medal. I felt competent and capable of doing that, but the medals were decided in incredibly fast times and I think it's one of the fastest World Indoor finals ever."
Asha Phillip (Christine Bowmaker) continued to show her world-class pedigree posting a time of 7.11 in the women's 60m final to finish agonisingly just one place outside the medals. Flanked on either side by the gold and silver medallists Shelly-Ann Fraser-Pryce and Murielle Ahoure, Phillip was just two hundredths of a second shy of her personal best, and had mixed feelings about her performance.
"I know in my heart and soul I could have gone quicker. I came fourth in the world, and it's more than I could have asked for because coming from my background I didn't think I'd get this far.
"I'm gutted I didn't do what I did in the heats and semis. It was a great experience because I've missed out on finals for so long (since 2007) so I can take pride in what I've done."
Sophie Papps (Dan Cossins), the youngest member of the GB & NI team, finished a credible sixth in her semi-final earlier in the session.
Papps said: "I was really nervous going in and that could have affected it, but I've had a really good time and I'm not going to dwell on it. I ran really well yesterday making it to the world semi-final, so I'm really pleased with how I've done overall."
In the women's long jump, Shara Proctor (Rana Reider) was unable to follow teammate Johnson-Thompson into the medals, finishing fourth in the women's long jump with a best jump of 6.68m.
"It wasn't my day. I came out with a season's best. I'm unhappy about it as I so wanted a medal because I was the reigning bronze medallist and I wanted to defend that. I had trouble finding my rhythm but I don't want to make any excuses. Today was a day to perform and I didn't perform."
There was disappointment for Holly Bleasdale (Scott Simpson) in the women's pole vault final, as she finished in ninth place with a best clearance of 4.55m.
"I'm really disappointed," she admitted. "I felt really good coming into it. I had a great session yesterday, but activation just wasn't there.
"I'm really frustrated and really upset. I have been on a long road back from injury to be here and perform and it's not gone well so I'm obviously gutted. But I'll learn from it and improve as I always do."
Andy Vernon (Nic Bideau) toed the line in the men's 3000m, his first global final and acquitted himself well against a truly world class field. Despite being in contention most of the way, the Aldershot, Farnham & District man had to settle for 11th place in a time of 7.58.25.
Vernon said: "I was making the right moves until about three laps to go and it started to pick up [the pace]. I went to the outside of the track but I just didn't have the zip in my legs today. I came here with the hope to make the final. I thought if I did that I'd be pleased. When I made the final I wanted to at least finish in the top eight and for that reason I'm a bit disappointed."
GB & NI medal tally at the IAAF World Indoors:
Gold (1): Richard Kilty (Reider) 60m
Silver (2): Men's 4x400m, Katarina Johnson-Thompson long jump
Bronze (3): Andrew Osagie 800m, Women's 4x400m, Tiffany Porter 60m hurdles (Reider)