On day seven of the IAAF World Championships in Daegu, South Korea, there were a number of Aviva GB & NI team members in action as the final weekend of competition beckoned.
But there was Friday night disappointment for Jenny Meadows (coach: Trevor Painter) as she failed to qualify for the women's 800m final, and Chris Tomlinson (Frank Attoh), whose lifetime best long jump form was curtailed by a knee injury.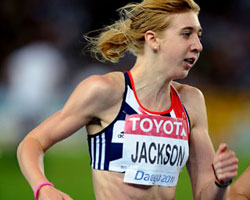 In the women's 800m semis, Jenny Meadows was in the first fast paced  heat that was won in a swift 1:58.98 by Russian Yuliya Rusanova. Meadows, who was pipped by American Maggie Vessey for second crossed the line in 1:59.07. It meant a nerve racking wait for the Wigan athlete, who with one heat to run was occupying the remaining fastest loser position. But it was to no avail and the defending world bronze medallist suffered the frustration of not making Saturday night's final.
Afterwards Meadows reflected on her semi-final upset:
"I can definitely hold my head up high. I definitely gave 100 percent on the day. It's ironic that I'm in personal best shape as I've been smashing out the training sessions the last six weeks.
"I am a little bit in shock that I didn't make the final but I've just got to accept there were eight better girls than me on the day.
"It's hard to miss the final by one tenth and one place. I do have to remember how good shape I am in and just think today was not my day."
Emma Jackson (Alan Morris) had an equally fast semi-final in the second heat, and although was far removed from the eventual qualifying positions, she ran a canny race to finish in fifth place with a lifetime best of 1:59.77.
"I'm really pleased. I know I haven't got to the final but I'm so pleased to get a personal best. It's what I came here to do," she said.
"It was an amazing quality of race and it could have been a world final in itself. It was amazing to be out there. I kept my cool, I ran it at my pace not other peoples. I felt I finally ran for me and I felt I ran a lot better today."
The third of the three GB representatives Marilyn Okoro (Ayo Falola) faded towards the end of her heat, crossing the line in seventh with 2:01.54.
"I'm disappointed I didn't run as well as I could have. I'm disappointed tactically," she said.
"I fought my heart out to get here and I'm in good shape. I've got to learn from these championships and put it all into practice step by step for next year."
In the men's 200m semi-finals, Christian Malcolm (Dan Pfaff) finished fifth in his race in 20.88, missing out on a place in Saturday's final. The Aviva GB & NI team captain was disappointed with his offerings in Korea:
"I've had a good year up until now so I'm really disappointed," he admitted.
"The plan was to go out and attack it hard and I never did. I'm not going to stand here and give excuses. At the end of the day you come to the championships to perform well and I performed well below par."
Goldie Sayers (Dan Pfaff) was unable to make any impact on the women's javelin final with a best effort from her first three throws of 58.18m – it meant that the Olympic fourth placer ended her competition at that stage in tenth position. The gold was won by Russia's Maria Abakumova with a Championship Record of 71.99m.
Sayers, who had worked hard to recover from a pre-season injury was highly critical of her own effort, despite the high quality final producing two throws in excess of 71m:
"I'm devastated. My conclusion is that I tried way too hard," she said.
"I knew there was a medal up for grabs tonight and I just got over anxious. I kind of forced things which you just can't do in the javelin.
"I was trying too hard rather than waiting for things to happen. I should really know better than to do that."
Long jumper Chris Tomlinson struggled in the men's final with a knee injury and like Sayers was unable to make the cut for the final attempts. Clearly struggling, his 7.87m gave him eleventh position in the final that was won by American Dwight Phillips with 8.45m.
"I'm devastated. Things were going very good for me coming into these championships," he said
"I picked up an injury a few weeks ago and managed to scrape on through qualifying yesterday but today it wouldn't take off. I'm absolutely gutted. I know there is a big jump there but unfortunately today it wasn't to be."
In the women's 5000m final Helen Clitheroe (John Nuttall) finished 12th in her second best time ever of 15:21.22. The gold was won by Kenya's Vivian Cheruiyot in 14:55.36.
She said: "It was tough but I enjoyed it.
"I decided after the heats that I felt it was a bit of a bonus to be in the final so I wanted to enjoy it.
"I felt like I ran a lot better and ran a lot more competitive. I dropped off towards the end but they weren't hanging around! I wanted to do better but I'm not devastated. I just I could have had a higher finish!"
Finally it was the turn of the men's 4x400m team to take to the track for the much anticipated final. The team of Richard Strachan (Linford Christie), Nigel Levine (Simon Duberley), Chris Clarke (Nick Dakin) and Martyn Rooney (Nick Dakin) finished seventh in 3:01.16, with the USA winning with 2:59.31.
Rooney – who made his relay team debut at the World Championships in 2005 made sure the squad received words of wisdom as the race ended:
"It's my fourth World Championships and I wanted to make sure everyone knew that they had done a great job," he explained.
"We ran an incredible time from lane one, probably similar time to what we ran in 2009 where we won a silver medal, so it's very exciting going into London 2012."
World Championship finals action featuring Aviva GB & NI team members continues on Saturday evening with the women's 4x400m relay, as well as semi-final action with Tiffany Porter in the hurdles.