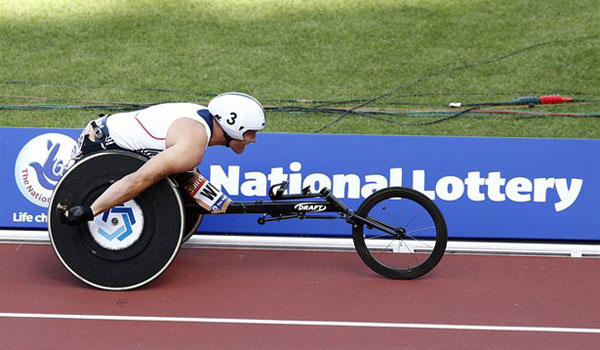 UKA, the national governing body for British athletics, has announced the Olympic and Paralympic athletes that will be supported by the World Class Performance Programme (WCPP) for 2013- 2014.
The selection of these athletes is based on their potential to win medals at Olympic Games, Paralympic Games, IAAF World Championships and IPC World Championships.
The WCPP, funded by the National Lottery through UK Sport, is split into two levels. Podium is for athletes with the potential to medal at Rio 2016, while Podium Potential is for athletes developing towards Tokyo 2020
UKA has selected 22 individual athletes to Olympic Podium funding and 25 individual athletes to Paralympic Podium. The four Olympic and one Paralympic relay teams will also receive support. 44 Olympic and 23 Paralympic athletes have been selected onto Podium Potential.
British Athletics Performance Director Neil Black said:
"Our immediate focus is firmly on medals in 2016, followed by London 2017 when we will host both the IAAF and IPC World Athletics Championships. From there attention shifts to Tokyo 2020. Our WCPP selections absolutely reflect that focus.
"2013 was an excellent year for the British team across both the Olympic and Paralympic programmes. And once again I am confident 2014 will bring further success in what will be another extremely busy indoor and outdoor season.
"The support from the National Lottery via UK Sport enables our athletes to work with the best coaches and support staff and prepare at the best facilities and training camps to ensure they perform to the highest achievable standards."
Podium WCPP
Olympic (22)
Holly Bleasdale (Scott Simpson), Lawrence Clarke (Malcolm Arnold), James Dasaolu (Steve Fudge), Hannah England (Bud Baldaro), Jessica Ennis-Hill (Toni Minichiello), Mo Farah (Alberto Salazar), Adam Gemili (Steve Fudge), Robbie Grabarz (Fuzz Ahmed), Dai Greene (Malcolm Arnold), Sophie Hitchon (Tore Gustafsson), Katarina Johnson-Thompson (Mike Holmes), Christine Ohuruogu (Lloyd Cowan), Andrew Osagie (Craig Winrow), Tiffany Porter (Rana Reider), Andy Pozzi (Malcolm Arnold), Shara Proctor (Rana Reider), Greg Rutherford, Perri Shakes-Drayton (Chris Zah), William Sharman (Jerzy Maciukiewicz), Chris Tomlinson (Rana Reider), Laura Weightman (Steve Cram), Nathan Woodward (Rana Reider)
Paralympic (25)
Ola Abidogun (Grant Barker/Lloyd Cowan), Hollie Arnold (Anthony Hughes), Graeme Ballard (Tabo Huntley), Paul Blake (Rob Ellchuk), Jonathan Broom-Edwards (Fuzz Ahmed), Mickey Bushell (Fred Periac), Libby Clegg (Keith Antoine), Hannah Cockroft (Jenni Banks), Aled Davies (Anthony Hughes), David Devine (David Evans), Kyron Duke (Anthony Hughes), Dan Greaves (Jim Edwards), Sophie Hahn (Joseph McDonnell), Beverley Jones (John Parkin/David Caldecourt), Sophie Kamlish (Rob Ellchuk), Stephen Miller (Ros Miller), Jonnie Peacock (Steve Fudge), Josie Pearson (Anthony Hughes), Gemma Prescott (Mike Wood), Stefanie Reid (Rana Reider), Nathan Stephens (Anthony Hughes), David Weir (Jenny Archer), Richard Whitehead (Keith Antoine), Rob Womack (Shaun Pickering), Bethany Woodward (Jared Deacon)
Olympic Relay (16)
Mens 4x100m – Harry Aikines-Aryeetey (Rana Reider), James Ellington (Rana Reider
Women's 4x100m – Dina Asher-Smith (John Blackie), Hayley Jones (Donald Moss), Annabelle Lewis (Rana Reider), Ashleigh Nelson (Michael Afilaka), Anyika Onuora (Rana Reider)
Men's 4x400m – Michael Bingham (George Williams), Jamie Bowie (Piotr Haczek), Jack Green (Malcolm Arnold), Nigel Levine (Linford Christie), Martyn Rooney (Rana Reider), Conrad Williams (Linford Christie),
Women's 4x400m – Margaret Adeoye (Linford Christie), Eilidh Child (Malcolm Arnold), Shana Cox (George Williams)
Paralympic Relay (2)
Katrina Hart (Rob Ellchuk), Jenny McLoughlin (Keith Antoine)
Podium Potential WCPP
Olympic (44)
Meghan Beesley (Nick Dakin), David Bolarinwa (Jonas Tawiah-Dodoo), Dan Bramble (Frank Attoh), Lucy Bryan (Charles Preston), Ashley Bryant (Ian Grant), Katie Byres (Alan Richardson), Chris Clarke (Steve Fudge), Luke Cutts (Trevor Fox), Mark Dry (Tore Gustafsson), Zane Duquemin (John Hillier), James Gladman (James Hillier), Emelia Gorecka (Mick Woods), Charlie Grice (Jon Bigg), Abigail Irozuru (Frank Attoh), JJ Jegede (Peter Stanley), Jessica Judd (Rob Denmark), Richard Kilty (Rana Reider), Jade Lally (Andrew Neal), Eilish McColgan (Liz McColgan), Sophie McKinna (Geoff Capes), Mukhtar Mohammed (Mustafa Mohamed), Brett Morse (Andy Brittan), Laura Muir (Andy Young), Ross Murray (Craig Winrow), Chris O'Hare (Steve Gulley), Asha Philip (Christine Bowmaker), Isobel Pooley (Fuzz Ahmed), Julian Reid (Aston Moore), Leon Reid (James Hillier), Andrew Robertson (Dan Cossins), Sebastian Rodger (James Hillier), Jazmin Sawyers (Alan Lerwill), James Shane (Martin Brown), Lynsey Sharp (Terrence Mahon), Allan Smith (Fuzz Ahmed), Serita Solomon (Lloyd Cowan), Gemma Steel (John Nuttall), Danny Talbot (Dan Cossins), Deji Tobais (Jonas Tawiah-Dodoo), Lorraine Ugen (Frank Attoh), Chijindu Ujah (Jonas Tawiah-Dodoo), Bianca Williams (Lloyd Cowan), Delano Williams (Glen Mills), Jodie Williams (Christine Bowmaker)
Paralympic (23)
Joshua Bain (Kevin Bain), Olivia Breen (Jonas Tawiah-Dodoo, Julie Hollman), Jamie Carter (Jenny Archer), Josh Clark (Anthony Hughes), Meggan Dawson-Farrell (Ian Mirfin), Jordan Howe (Keith Antoine), Jade Jones (Tanni Grey-Thompson/Ian Thompson), Rhys Jones (Keith Antoine), Andy Kaar (David Sunderland), Samantha Kinghorn (Ian Mirfin), Erin McBride (Robert Roberts), Dean Miller (Bud Baldaro), Maxine Moore (Alison O'Riordan), Stephen Morris (Chris Moss), Holly Neill (Andrew Roda), Mel Nicholls (Job King), Georgina Oliver (Paul Moseley), Stephen Osborne (Jenni Banks), Ben Rowlings (Job King), Will Smith (Jenny Archer), Laura Sugar (Femi Akinsanya/Hayley Ginn), Isaac Towers, Kieran Tscherniawsky (Jim Edwards)