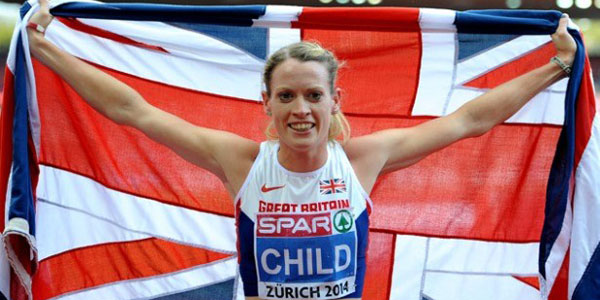 Eilidh Child finally adds a major international title to her impressive trophy cabinet when winning Gold in Zurich at the European Championships.
Heading into this European Championships as the fastest on the continent this year, Child wore the blue bib and had a clear target on her back. But after handling the monumental home pressure to bag silver at the Commonwealth Games in Glasgow, this was easy for Child, who ran the perfect race to claim the women's 400mH title in 54.48.
As she'd done in both of the qualifying rounds, the Scot really attacked the first few hurdles to ensure she was in contention from the off, but coming off the final hurdle Child had another gear and started to move away from the other medal contenders.
She said: "That was a relief! I knew if I just executed my race well I should be close to the medals. I came off the tenth hurdle and knew I was in the lead and I tried to just get to the line. My legs were dying coming off the last hurdle and then at about five metres out everybody came alongside me so I didn't know what had happened when I crossed the line. I'm delighted to have won.
"I did feel a little bit of pressure; all year I've been trying to focus on what I can control. There were some nerves on the start line and the blue number didn't really help as it just advertises that you should be favourite; but I managed to calm myself down and focus on what I needed to do."
Lynsey Sharp (Rana Reider) employed the same front running tactics that served her so well in the heats and semi-finals of the women's 800m, and down the back-straight on the second lap it looked as they were going to pay off again. The defending champion had just one athlete for company, but despite running a massive lifetime best of 1.58.80, Sharp couldn't quite hold off Belarusian Maryna Arzamasova, instead settling for silver.
"That (tactic) was totally unlike me – if you've ever watched me – up until this week I'd never done that! Obviously after Glasgow I felt really strong and I knew I had a fast race in me, then everyone said I looked amazing in the semi-final, so I just went out and did exactly what I did then. Obviously it was two seconds faster and I paid for it in the home straight!
"Perhaps I shouldn't have looked behind me with about 120m to go, but that is the most uncomfortable way to race, running scared the whole way. It's been an amazing season I couldn't have asked for this. I'm just so happy with that time. Two years ago I never would have raced like that. I'm a completely different athlete than in 2012."
It's hard to believe that Jess Judd (Rob Denmark) is still a junior this year, especially given her mature run to make the final. She admitted it was maybe one race too many, finishing seventh in 2.01.65, but there's no doubting the nineteen year old has a bright future ahead of her.