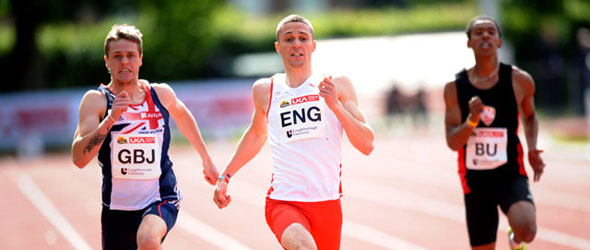 Continuing his rise to prominence, Aviva UK Indoor Champion Danny Talbot (coach: Dan Cossins) built on his impressive start to 2011 with an exceptional sprint double at today's Loughborough International, the first major fixture of the 2011 McCain Challenge Series.
The 2010 World Junior Championships semi finalist, who clocked a lifetime best – at the time – of 20.89 to take the national indoor 200m title in February, ducked inside the World Championships 100m 'B' standard with a 10.21 (1.8m/s) victory and lifetime best performance in the men's 'A' invitational 100m.
And while his Match 200m victory of 20.6 was a World Championships 'A' standard and an indicator of excellent form, it was aided by a hugely significant +6.1m/s wind, unfortunately the only consistently present factor across the afternoon.
"I said to my Dad last night that I wanted to run under 10.4 and 20.8 and I've blown those times apart," said the Birchfield Harrier whose previous best over 100m was a wind-assisted 10.48 when finishing seventh in this event last year. "I've surpassed everything I'd hoped for today and I'm now realistically looking to medal at the European Under-23 Championships."
"My training hasn't been too different to last year but I'm growing as an athlete and physically I'm a lot stronger than I was 12 months ago. I've also had fewer injuries so my training has been more consistent."
In tough conditions, Aviva Great Britain and Northern Ireland Juniors representative Adam Gemili (coach: John Blackie) also impressed over 100m.
The 17-year-old Blackheath & Bromley athlete, a professional footballer with Dagenham & Redbridge, raced seriously for the first time in 2010 when his school entered him into the Kent Schools Championships, which he duly won.
He came into today's event with a 100m legal best of 10.7 and reduced that mark with 10.29, albeit in an illegal +2.4m/s wind, to take victory in the 'B' invitational event.
Harry Aikines-Aryeetey (coach: Michael Khmel) won the Match 100m in a quick 10.10 (+3.5m/s), his quickest since 2008 and well inside the World Championships 'A' standard, also aided by a very strong tail wind, while in the hurdles, British Universities runner-up Andy Pozzi (coach: Malcolm Arnold) impressed twice over, recording 13.69 (+1.0m/s) to take victory in the men's under-20 invitational 110mH and 13.79 (+4.0m/s) to finish second in the Match hurdles event, both times well inside the European Juniors qualification standard.
Also successful in achieving age-group Championships qualification marks on the track, under-18 Desiree Henry (coach: Mike McFarlane) impressed with victory in the women's 'B' invitational 100m (11.78/+3.1m/s) and more significantly when finishing fourth in the 200m with 23.52 (+2.4m/s), almost a full second inside the required World Youths mark with a slight tail wind.
The wind-factor continued throughout the day and contributed to a tough season opener for European Indoor Championships finalist Jodie Williams (coach: Mike McFarlane) who took victory in the rarely run 300m (38.0).
"That was awful, the wind down the back straight was so tough and there was such a huge gust of wind when the gun went, but I'm happy with the time in the conditions," said the World Junior 100m champion. "I'm still in training and I took it as a training run; I open up properly at the senior Inter Counties next weekend over 100m then I'm hoping to go to the European Team Championships and the European Juniors."
"I hope I can double up at the European Juniors this summer," she continued. "I'm a lot stronger this year and I want to prove that I can still win in both events."
In the field events Jessica Ennis (coach: Toni Minichiello) continued her preparations for next weekend's IAAF World Combined Events Challenge in Gotzis, Austria with victory in the high jump (1.86m) and a sixth place finish in the javelin (44.49m) while Steve Lewis (coach: Dan Pfaff) made a welcome return to action following an indoor season injury at the Aviva Grand Prix with victory in the pole vault (5.60m).
Both the men's hammer and women's shot putt were high quality domestic fields which clearly brought the best out of the athletes.
Scottish duo Andy Frost (coach: Alan Bertram), competing for Scotland, and Mark Dry (coach: Derek Evely), who competed for his club, recorded lifetime best performances when finishing first (72.79m) and second (72.49m) respectively – the first time over 72m for Dry – while in the shot putt Eden Francis (coach: Glenys Morton), competing for England, extended her UK rankings lead with a PB of 16.68m and Aviva GB&NI Juniors athlete Sophie McKinna (coach: Geoff Capes) was well in excess of the European Juniors qualification standard of 14.50m with a mark of 15.59m in third.
The overall match was won by England with 185 points from Loughborough in second (143.5) and Aviva GB & NI Juniors in third (129).