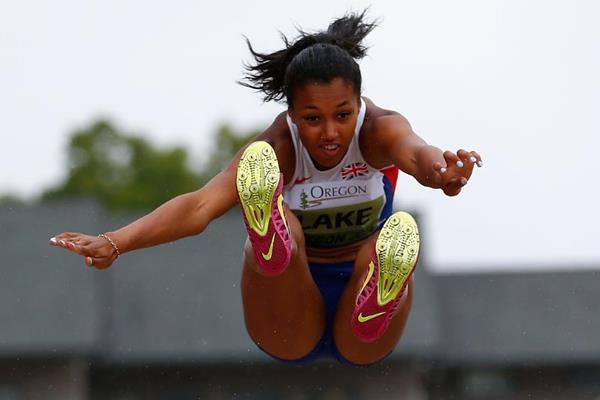 Morgan Lake (coach: Eldon Lake, club: Windsor Slough Eton & Hounslow) was crowned double world junior champion on the final day of the IAAF World Junior Championships in Eugene, Oregon, as she added high jump gold to the heptathlon title she won earlier in the week. The British women's 4x400m relay team also won silver to take GB & NI's total medal tally for the championships to six and fourth in the medal table.
Double World Junior Champion
Lake cleared a best height of 1.93cm, just 1cm shy of the new British junior record she set during the heptathlon competition on Tuesday, and was overjoyed to have won two gold medals.
She said: "I still can't really get over it. I was hoping to get one medal here and maybe another in two years' time but to get two medals here, I'm really happy. Both titles mean the same amount to me, but the high jump was a bit of a surprise today so I'm really happy with that.
"The conditions were much nicer today so it was a bit easier to jump today than during the heptathlon. I've never normally been in a competition where it's important to get first attempts at heights in case it goes back on count back and that kind of stuff so that was a bit of a different experience."
The British quartet of Shona Richards (Marina Armstrong, WSEH), Loren Bleaken (Malcolm Arnold, Team Bath), Sabrina Bakare (Jane Dixon, Bracknell) and Cheriece Hylton (John Blackie, Blackheath & Bromley) ran the USA team close in the 4x400m relay team but had to settle for a superb silver with a time of 3:32.00, the second fastest ever by a British junior women's team.
400m hurdles silver medallist Shona Richards, who ran leg one for the GB & NI team, said: "I just tried to give it my all, the team deserves it. Our team as a whole deserve it too. I kicked at 200m and managed to finish it strong and get a medal. We all believe in ourselves and had the confidence to go out there and do what we did."
Third leg runner Sabrina Bakare said: "It's absolutely amazing. We knew we were a strong team and we just wanted to prove that we could do some damage out there. To come away with a silver medal is unbelievable. We knew we could do it but to actually go and do it on the track, I'm so proud of everyone that we were able to do it."
In the men's 4x400m relay, the final event of the championships, the GB & NI team of Ben Snaith (Mick Graham, Enfield & Haringey), Tom Somers (Geoffrey Barraclough, City of York), Elliot Rutter (Dan Cossins, Birchfield) and Jack Crosby (Rick Betts, Middlesborough) finished fourth with a time of 3:06.42.
Yasmin Miller (Lloyd Cowan, Derby AC) set a British junior record as she finished fourth in the 100m hurdles final. Despite being in lane one, she ran an excellent race and crossed the line in 13.13 for fourth place as the USA's Kendell Williams won in a new championship record of 12.89.
Despite narrowly missing out on a medal, Miller was ecstatic to have smashed Diane Allahgreen's British junior record. She said: "I just missed out on bronze but I can't complain because they were running in the 12s. I'm speechless, I didn't hit one hurdle which I'm really happy about. Being fourth in the world, how can I complain with that? I'm really happy."
A blistering pace was set in the final of the men's 800m and Kyle Langford (George Harrison, Shaftesbury Barnet) finished in eighth place with a time of 1:55.21 as Kenya's Alfred Kipketer won in a world junior leading 1:43.95.
In hot and muggy conditions the GB & NI duo of Bobby Clay (Peter Mullervy, Invicta East Kent) and Amy Griffiths (Mick Woods, Aldershot Farnham & District) performed extremely well in the final of the 1500m. Clay set a season's best 4:16.47 to finish eighth while Griffiths wasn't far behind in third with a time of 4:17.54.
Team leader Jo Jennings was delighted with the performance of the GB & NI team over the course of the championships. She said: "It's been a fantastic week with very inspirational performances. The team worked very well together despite the quite challenging conditions with the heat and the weather in general.
"The most impressive thing for me is that this is a very young team and they came together and worked very well together. There are some superstars of the future in this team that will definitely go on to senior level, including three that will compete this year against seniors.
"We're really happy with six medals, it's an improvement on last time and some of those medallists are young athletes who will still be juniors next year and will have gained massively from this experience."
GB & NI medals at the 2014 IAAF World Junior Championships:
Gold (3) – Dina Asher-Smith, 100m; Morgan Lake, heptathlon and high jump
Silver (2) – Shona Richards, 400m hurdles, GB & NI women, 4x400m relay
Bronze (1) – David Omoregie, 110m hurdles