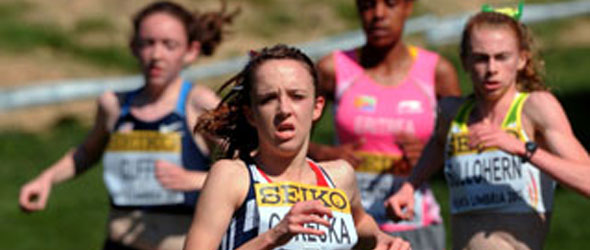 The McCain UK Cross Challenge is back for 2012 – 2013, taking in five key cross country fixtures across the UK throughout the autumn/winter season.
With the support of UKA's principle partner, McCain, UKA are able to offer high quality competitive opportunities in Bristol, Liverpool, Cardiff, Antrim and Birmingham for athletes looking to demonstrate form ahead of the forthcoming SPAR European Cross Country Championships and the IAAF World Cross Country Championships.
The McCain UK Cross Challenge gives up-and-coming athletes the opportunity to match themselves against established cross country stars in competitive races for all age-groups including senior, under 20, under 17, under 15 and under 13.
UKA's Head of Endurance Ian Stewart said, "Cross country is the backbone of British distance running. The likes of Ovett, Coe, Cram, Radcliffe, Farah and I were brought up on cross country and it really helped our careers, so it's a great place for kids to start out and progress.
"We looked at the dates very closely this year to ensure no clashes and has the full support of the home country teams, individual clubs and coaches – as well as sparking interest from other countries as ideal training."
With over £30,000 of prizes on offer, the McCain UK Cross Challenge guarantees some fantastic racing opportunities for athletes on the endurance pathway. Enter here:
Confirmed events and fixtures:
28th October: Bristol
24 November: Liverpool
12 January: Antrim
20 January: Cardiff
9 March: Birmingham