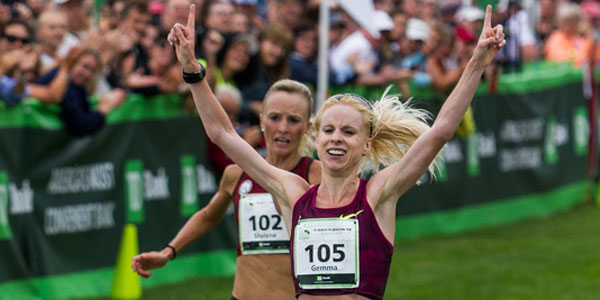 CAPE ELIZABETH, Maine – Great Britain's Gemma Steel outsprinted American distance running great Shalane Flanagan to join Bedan Karoki of Kenya on Saturday as champions in the 17th TD Beach to Beacon 10 Road Race in Cape Elizabeth, Maine.
Karoki (27:36), a Kenyan Olympian, outlasted fellow Kenyan Stephen Kosgei Kibet (27:42) and Maine native Ben True (27:50) for a hard-fought victory that saw the exhausted lead runners collapse to the ground after the finish. Steel avenged last year's runner-up placing by reaching the finish tape a mere three tenths of a second – .31 – in front of Flanagan after a classic road race duel down the homestretch. Both runners received identical times of 31:27.
The fantastic finishes added to the lore of a road race that lived up to its reputation as one of the fastest and most competitive 10Ks in the world.
Steel's heroics denied a valiant bid by Flanagan, one of the U.S.'s most decorated distance runners, to become the first U.S. runner – male or female – to win the TD Beach to Beacon 10K. True's third-place finish is the highest ever for an American man in race history. In addition, his  time is the fastest road 10K by an American since Mark Nenow ran 27:48 in 1985, according to Runner's World. The only other American road 10K faster than those two times is the U.S. record of 27:22 that Nenow set in 1984.
Meb Keflezighi, who is dealing with hamstring tightness and has admittedly spent the summer basking in the glory – and duty – of his historic Boston Marathon victory – the first by an American since 1983 – finished 13th (29:58) and then re-assumed his role as ambassador to his sport by joining Race Founder Joan Benoit Samuelson in greeting runners crossing the finish line.
In the Maine resident races, recent Midwest transplant Michelle (Frey) Lilienthal, a 32-year-old professional runner now living in Portland (33:39), shattered the course record by 38 seconds and finished 13th overall, while Will Geoghegan, 22, of Brunswick (29:53), a Dartmouth All-American, moved up a notch from last year to claim his first Maine title.
The world-class athletes were among a record-setting 6,494 runners from 14 countries, 42 states and more than 260 Maine cities and town who finished the winding, rolling, often breathtaking 6.2-mile coastal course on a cool, humid and overcast morning that offered just a spit of rain. The threat of rain did little to dissuade the enthusiasm of thousands of spectators who lined the course and filled bleachers to cheer the runners.
The TD Beach to Beacon (www.beach2beacon.org) is considered one of the world's top 10K road races, known for attracting the world's best runners but also for its top-notch organization, community support and the involvement of Olympic gold medalist and Maine native Joan Benoit Samuelson, who founded the race in 1998 and continues to inspire runners both in Maine and globally.
The beneficiary of this year's race is Rippleffect (www.rippleffect.net), a Portland-based non-profit youth and community development organization leading outdoor adventure programs on Cow Island, in area schools and in the mountains of western Maine. The organization received a check for $30,000 from the TD Charitable Foundation, the charitable giving arm of TD Bank, America's Most Convenient Bank® and further benefits from fundraising activities and publicity through its association with the race.
The race's "Beacon" – the Portland Head Light, the most photographed lighthouse in the world – was draped with a banner of Joan Benoit Samuelson on Saturday in tribute to the 30th anniversary on Aug. 5 of her historic gold medal win in the women's marathon at the 1984 Olympics in Los Angeles.
Perhaps it was fitting, then, that a field dotted with Olympians did not disappoint.
Flanagan, 33, an Olympic bronze medalist who ran the fastest Boston Marathon ever by an American in April, is now focused on trying to break the U.S. record at the Berlin Marathon in later September. Still, on Saturday, she ran like a woman on a mission to first make history in Cape Elizabeth. Flanagan held a slight lead for much of the race, with Steel a close second or side-by-side, before Steel pulled ahead in the later stages to set up the climatic ending.
For Steel, 28, an admirer of Flanagan, the TD Beach to Beacon continues to bring out her best. She set a personal best 31:35 in 2013 to finish a surprising second. This year a new personal best for 10K gave her just enough for a victory.
Diane Nukuri-Johnson, 29, a two-time Burundian Olympian, also set a personal best (31:51) to finish a strong third, following an eighth in 2013 and fourth in 2011.
In her first road 10K, 17-time Oregon All-American Jordan Hasay, 22, of Beaverton, Ore. (32:19) finished an impressive fourth.  Her former Oregon teammate Alexi Pappas, 24, of Eugene, Ore., who debuted in the 10K with a 10th in 2013, improved to seventh this year. U.S. Olympic marathoners Desiree Linden of Washington, Mich. (2012 Games) and Blake Russell of Pacific Grove, Calif. (2008 Games) were ninth and tenth, respectively, in 33:04 and 33:10.
In the men's race, the Kenyan Karoki (left), an Olympic finalist at 10,000m in 2012, led an eight-man pack, including True, that charged ahead at the gun, running the first mile in 4:20. By Mile 3, Karoki and Kibet had pushed ahead, with Karoki jumping into the lead for good on the rolling hills before the Fort. Kibet was the runner up at the 2012 TD Beach to Beacon as well.
Both runners collapsed just past the finish as True, who set a Maine Resident record when he last ran the TD Beach to Beacon in 2009, ripped down the homestretch to finish third. True is a former All-American at Greely High School and Dartmouth who now lives and trains in New Hampshire. His aggressive style continues to win accolades from road race observers.
True was followed by Patrick Makau, 29, of Kenya (27:56), who once held the world marathon record. The defending champion, Micah Kogo, 28, an Olympic bronze medalist from Kenya, placed fifth (28:14) with Kenyan Emmanuel Bett, 29, close behind (28:18). Other Americans included Fernando Cabada, 32, of Fresno, Calif., who placed ninth (29:46) and Brian Harvey, 27, of Boston, who took 10th (29:50).
The Maine Resident races were never in doubt as both Will Geoghegan and Michelle Lilienthal ran with the trailing packs of elite runners. Lilienthal broke the Maine course record with ease (earning an additional $500 course record bonus in the process), besting defending champion Erica Jesseman, 25, of Scarborough, whose 34:16.5 would have given her the course record in any other year. Three-time champ Sheri Piers, 43, of Falmouth, the previous course record holder, ran 35:45 to place third and also win the Open Masters title.
Geoghegan's winning time placed him 11th overall. Jonny Wilson, 26, of Falmouth, a perennial top three place winner, took second (30:27) with Henry Sterling, 23, of South Freeport, placing fourth (31:39).
In all, prize money of more than $60,000 was awarded to the runners, including $10,000 for the overall male and female winners, $5,000 for the second place winners and cash prizes for the top 10 finishers and in the different categories. The Maine Resident winners received $1,000.
Other winners included: Masters Men – Kevin Castille, 42, of Lafayette, La. (29:55); Masters Women – Sheri Piers, 43, of Falmouth, Maine (35:45); Wheelchair Division, Men – Tony Nogueira, 46, of Glen Ridge, N.J. (24:04), and Women – Christina Kouros, 19, of Cape Elizabeth (39:33).
In the Senior Division (50+) – Men – Bill Mariski, 53, of Portland (36:47); Women – Kathryn Martin, 62, of Northport, N.Y. (40:17).
Also, in the IDEXX Business to Business Maine Challenge, pitting teams of athletes from a number of New England corporations and businesses, it was a repeat of last year with Unum again winning first place in the mixed team division, Maine Health winning the men's division, Maine Health the women's division, and Fairchild Semiconductor won in the first-timer 10K division.
The Johnny Kelley Award for the oldest finisher again went to 89-year-old Dottie Gray.
The official starter of the race was former Runner's World publisher George Hirsch, 80, chair of the New York Road Runners board. He jumped into the race after sounding the starter's horn and actually won the 80-and-over division with a net time of 57:41.
Robert Moody, musical director of the Portland Symphony Orchestra, sang the national anthem, and also ran the race.
The TD Bank Beach to Beacon 10K is one of the most sought-after road races in the country, combining small-town charm with big-city crowds and top world-class athletes. In 2012 for the first time, more than 6,000 runners followed the winding course through the coastal town of Cape Elizabeth, starting near Crescent Beach State Park on Route 77, and crossed the finish line at the Portland Head Light, the most photographed lighthouse in the world.