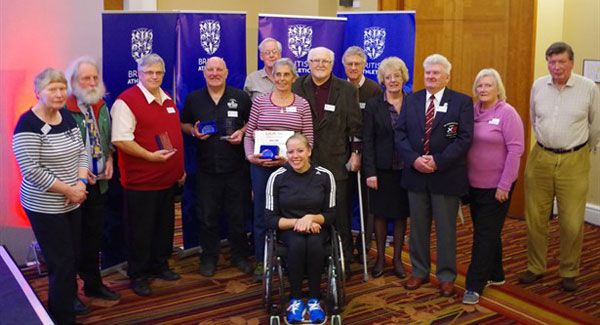 The 11 th annual British Athletics Officials Conference took place in Kenilworth today, with over 300 officials from across the country attending. Part of the Women in World Athletics Seminar taking place at the same venue from 4-7 April, the Conference focused on the theme of 'London 2012: The Legacy So Far'.
The day got underway with an address from British Athletics Major Events Director Cherry Alexander who paid tribute to David Littlewood MBE, who passed away in March, and other officials and friends who have recently been lost.
The keynote speech was delivered by Alan Bell, part of the IAAF International Starters Panel, who spoke about the effects on development of major athletics events and championships.
Bell began by taking the audience back to London 2012 before looking at its effects on the next generation of people and the need to mentor and support new officials and address the current age profile.
He insisted that British Athletics is seen as the benchmark of world class officiating as a result of the Olympic Games, a legacy that is highlighted by the huge accolades given to British officials in recent times.
Moving on to talk about facilities, he highlighted the new facility at the Olympic Stadium, one of the best in the world, which has created a new zeal for athletics. He also looked at the impact of technological advancements on officials.
Bell said that 2012 was 'a watershed' and could act as a beginning rather than a finale for many people and made a request to the delegates to help encourage a new group of officials.
In summing up, Bell said to the audience: "Understand what you did and reflect, it is at the heart of what we want to do to take things forward. We've made progress but like any journey we may never get to the end. You have to look personally at what you can contribute and where you want to go on the journey so that collectively we're all on the same bus."
Double Paralympic and world champion wheelchair racer Hannah Cockroft MBE delivered a guest speech on the topic of how things have changed since the London 2012 Paralympics, which she described as 'the best time of her life'.
The 21 year old began by recounting how she got involved in athletics and outlined her career to date, including the build up to the London Games. She gave details on her diet and training routine leading in to London 2012 but asserted that she didn't feel any pressure ahead of the Paralympics.
However, Cockroft believes that the legacy of the Paralympics and the way that it is now regarded has been important for the sport and indeed has changed her own life for the better.
She told the audience: "My life completely changed after getting my two medals and it is crazy how two little pieces of metal can change your life. I got two gold post boxes, a stamp and an MBE from Prince Charles and started living a life I always wanted.
"As a child I wanted to be famous and now that I'm halfway there I can do things that a 20 or a 21 year old can only dream of. I went to the National Television Awards, have been to Buckingham Palace and have travelled everywhere and met everyone I could want to meet.
"Everyone talks about legacy and without the legacy I could never have done those things. After Beijing people only knew a few people but after London everyone knew us and invited us to places and I loved it."
She closed her speech by insisting that her experiences since London 2012 prove that the legacy of the Paralympics has been very real.
The officials then broke into workshop groups for the next few hours where various topics related to officiating were addressed. The day ended with an insight into British officials since the 2012 Olympic and Paralympics.
Awards were made to officials who were recognised as unsung heroes. For their tireless work to officiating, awards were made to Andrew Clatworthy, David Vidler and John Pickles who were all greeted with rapturous applause from the audience.
Long service awards recognise 40 years of service to officiating and were also presented at the Conference to the following officials:
·         Bob Ivory
·         Dave Cremin
·         Jeanne Coker
·         Ian Tasker
·         Susan Bishop
·         John Pickles
·         Martin Howard
·         Jean Simpson
·         Ross Vince
·         Linda Lenton
·         Peter Lenton
A special award was presented to Shona Malcolm, recently awarded an OBE for her service to the community, as well as Mike Dooling, given an MBE for services to athletics in Merseyside, John Roberts, awarded an MBE for services to athletics in the community, and Jim Moore, presented a BEM for services to athletics.