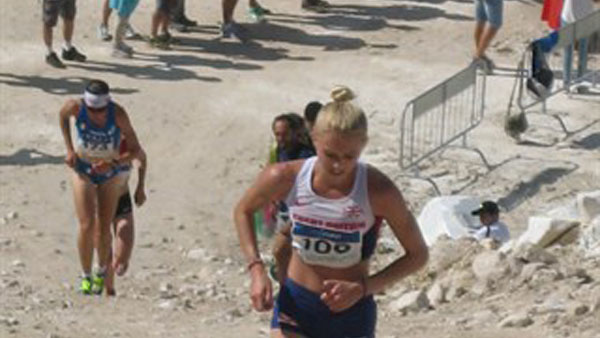 There was medal success at the World Mountain Running Championships for Great Britain & Northern Ireland in Casette di Massa, Italy, as the senior women's team ran to silver and the junior men's team secured the bronze.
Emma Clayton (coach: Andrew Henderson) led the senior women's team to silver success with a magnificent 9th place finish in a time of 50:11 over the 8.4km route. Her top ten display was a perfect way for the Bingley athlete to bounce back from an injury hit season last year. Rebecca Robinson was 14th in 51:11, Mary Wilkinson was 18th in 51:52 and Katie Walshaw (Katherine Farquhar) was 42nd in 54:31. The British team were pushed into second by Italy much to the joy of the hosts. Andrea Mayer of Austria was crowned the world champion.
The senior men's team were placed outside the medals in 5th but there were some impressive displays over the gruelling 11.7km course. Nick Swinburn (Lindsay Dunn) secured a top 20 finish in 59:09 in 19th with Andrew Douglas (Sophie Dunnett) also ducking underneath the hour mark in 59:28 to finish in 21st. Robbie Simpson (Martin Cox) and Orlando Edwards were 30th and 33rd in 1:00:39 and 1:01:08 respectively. There wasn't much to separate the Yorkshire men Rob Jebb and Tom Addison (Billy Proctor) in 80th and 82nd with times of 1:05:16 and 1:05:28 respectively. Uganda took a clean sweep of the medals, including the team gold medal.
The junior men won the bronze medal to match their result from the 2013 edition of the championships in Poland. This time it was Andrew Lawler (David Campbell) who led the team to bronze success in a time of 46:37 for 11th spot. He had to battle with fellow Briton Maximilian Nicholls (Peter Brenchley) for much of the race but he pulled away in the final stages as Nicholls finished 13th in 47:18. Jacob Adkin (Gregor Nicholson) was the third counter for the team in 23rd in a time if 48:41 with Max Wharton (Mark Goldie) 28th in 49:25.
The junior women had won the team title in 2013 but this time they had to settle for fourth place. However, Catriona Graves (John Bell) was one of the top performers for the GB & NI team as a strong second half of the race moved her up to 5th. Heidi Davies (Phil Banning) was 14th in 21:50 and Georgia Malir (Henderson) was 18th in 22:20.
Team Leader Sarah Rowell commented on the team's performance in the Italian mountains:
"We were competitive in all four races and proved again that we are one of the strongest European teams and this backs up our performances at the European Championships earlier this year. The challenge now is to get more of our athletes in the mix for individual medals in the uphill only discipline."
"Impressive performances in particular came from Catriona Graves who paced this race particularly well. She went from outside the top twenty with 1km to go into 5th. Andrew Lawler who has made a big step up in the last 12 months finished only just outside the top ten and led the junior men to a well-deserved bronze medal, and Nick Swinburn, whose race plan was executed meticulously to give him a well-deserved top twenty."