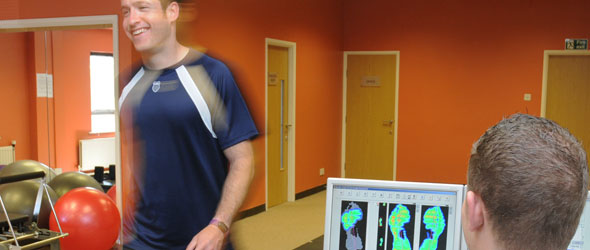 Cardiff teacher, Sean Allen, 28, who is aiming to run 21 marathons in 21 days, to raise money for his late friend's family, has had his dream jeopardised by an acute knee problem.
Now, thanks to Ace Feet in Motion, the specialist sports injury and footwear centre on Sanatorium Road in Cardiff, Sean is back on track to train for the marathons.
"I was diagnosed as having oedema on the knee, due to overuse, and have had to postpone my fund-raising runs until October," he says. "The whole enterprise was in jeopardy until I went to see a specialist sports podiatrist at Ace Feet in Motion. I have been fitted out with specialist orthotics to help  provide my knee with the support it needs while I train."
Sean was inspired to take on this daunting challenge because of the death, from cancer, of his best friend, Andrew Mills, earlier this year.
Andrew is survived by his wife, Anna, and baby son, Alexander.
"I wanted to do something positive to help Andrew's family, as they mean a great deal to me," says Sean, a primary school teacher from Rhiwbina. "Andrew helped me a great deal when I first went to Loughborough University, and was feeling homesick, and I was proud to be a witness at his wedding to Anna."
Tom Cooper, senior sports podiatrist at Ace – Feet in Motion, says that Sean will now be able to resume training.
"He will have to take it easy at first, to build his strength back up, but the specialist orthotics we have made for him mean that there will be considerably less pressure on the injured knee."