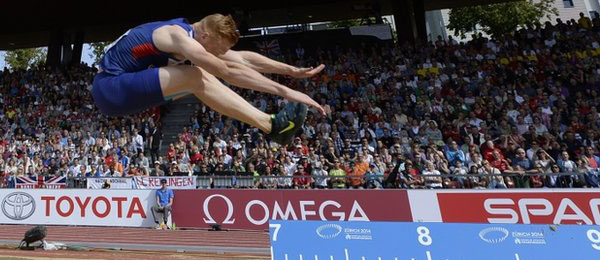 Five gold medals on the final day of Zurich 2014 competition ensured Great Britain & Northern Ireland topped the medal table with a British record of 23 medals at the 2014 European Athletics Championships.
The GB & NI women's 4x100m team ensured that the championships ended to the tune of God Save the Queen as they stood on the top step of the podium to collect their gold medals. It wasn't just gold though, as Asha Philip (coach: Christine Bowmaker), Ashleigh Nelson (Michael Afilaka), Jodie Williams (Bowmaker) and Desiree Henry (Rana Reider) tore up the track to run a time of 42.24 and smash the long standing British record. Afterwards, Philip said:
"It's amazing – we've been trying for the national record all year – every time we've stepped on the track together as a 4×1 team we've aimed for that record – and the fact that we did it here at an international champs, I'm so proud of these girls out here and those back at the camp – they performed so well there is nothing more to say apart from I'm so happy."
Just moments before, the men's 4x100m team put together three slick changes to win their first championships since 2006. Just as in the heats, James Ellington, Harry Aikines-Aryeetey and Richard Kilty (all Reider) combined superbly to hand over to individual 200m champion Adam Gemili (Steve Fudge) neck and neck with Germany.
There was no stopping the youngster of the team as he moved away from the German anchor leg runner to secure an emphatic victory in a time of 37.93.
Gemili said: "It was great – medalling individually is great but doing it with a team is amazing. We're all mates and we trust each other and it's really a pleasure to hold on and make sure we weren't run down. These guys did all the work, and I just had to make sure I didn't let go of it."
Mo Farah (Alberto Salazar) has made a habit of becoming a double champion and he did it again in Zurich as he added 5,000m gold to the 10,000m title he won earlier in the week. Just as in the 10,000m he was tracked closely by Andy Vernon (Nic Bideau) who followed him home in third place to add 5,000m bronze to his 10,000m silver.
Farah controlled the race from the front, setting a slow pace before it really got going in the closing stages as the double Olympic and world champion running 1:50.67 for the last 800m to hold off Azerbaijan's Hayle Ibrahimov and cross the line in 14:05.82 with Vernon coming home in 14:09.48.
Afterwards Farah said: "It feels good. Things haven't been easy this year so it's great to finish with a double. I wasn't worried, I've learned a lot over the years racing on the circuit and for me I knew I was fast enough if it came down to a lap to go. After the 10k I got a lot of confidence back.
"This means a lot to me, particularly with everything I've gone through this year with the marathon and getting ill before coming here. It would have been nice to go into the season without any problems but that happens in life and you just have to get on with it."
Vernon meanwhile was delighted to also win his second medal of the championships. He said: "I'm tired now! But I'm delighted. To think only eight or nine weeks ago I might not have started these races and now I've done two championships and won two medals.
"Even though we didn't run much faster in that race than the 10k the last lap today felt so much tougher. Going into the last 600 I had a game plan to try and win the gold even but I was falling apart. They had a gap at 400m to go and I was nowhere near ready to start sprinting as fast as that. I was going as fast as I could and if someone came past me there was nothing I could do so I'm pleased that nobody did come past me."
In the men's 4x400m final, it came down to Martyn Rooney (Rana Reider) versus Krasnov of Russia on the anchor leg to determine who would win gold, a battle that individual champion Rooney was never going to lose. Led off by Conrad Williams (Linford Christie), who put the team into the lead, Matthew Hudson-Smith (Tony Hadley) and Michael Bingham (George Williams) both ran good legs to leave Rooney just one stride behind the Russians.
Coming off the final bend, Rooney made his assault to move away from Krasnov to secure the first GB & NI gold of the evening. Afterwards he commented:
"We did very well in Barcelona [2010] and this team is a very young and youthful team. There is experience and there's a lot of very talented young kids coming through, and seeing them come through makes the older guys step up and go alright, I have to fight for my place in the team and I can't just go there to make up numbers."
GB & NI's fifth and final gold medal of the day and the championships came in the long jump as the Olympic and Commonwealth champion Greg Rutherford (Jonas Tawiah-Dodoo) leaped to a best distance of 8.29m in the fourth round to take the victory by a margin of 14cm.
The British record holder jumped the three best distances in the competition and was delighted to add his second major title of the summer to his collection after also taking gold at Glasgow 2014. Afterwards he commented on the success of the team at these championships:
"It's one of those things – you could look at the quality of athletes we've got here and it is expected to some degree. People like Martin Rooney I take my hat off to. That guy has had a lot of hard times and knocks over the years – we were on European Junior teams together – everyone knew he was good enough to do it but it never went quite right but now he's come away with two gold medals from this championships!  It started with Jo, and from then it rolled and rolled – it was a snowball effect – everyone wanted their own gold medal!"
Also in the long jump, JJ Jegede (Peter Stanley) had a best jump of 7.88m but dropped to ninth place at the end of the third round and narrowly missed out on a further three jumps. Chris Tomlinson was a further two places back in eleventh place with 7.75m.
In an extremely messy men's 1500m final, which after passing 800m in 2.10 saw countless fallers, Chris O'Hare (Terrance Mahon) didn't give up, gritting his teeth all the way down the home straight to bag bronze. Sitting in his customary position at the back of the pack for the first two laps, the Scot slowly made his way up the field. He led momentarily with a lap to go before getting heavily boxed. The situation was worse for his teammate Charlie Grice (Jon Bigg) though, who was tripped at the bell but admirably got up and finished the race off, albeit way out of contention.
Back to the business end of things, and O'Hare was trapped in the pack as Mekhissi-Benabbad of France made a long and decisive run for home, but he never gave up. Coming off the bend in sixth or seventh, the Edinburgh AC man had one gear left, and he used it to great effect to make up ground on those ahead of him to win a brilliant bronze.
"It felt horrible coming up the home straight and I wasn't sure that I was going to get there. I didn't want to get to 50m to go and hit the wall. Coming off the bend I was driving my knees as high as possible and trying to run like Adam (Gemili) did!
"It means a lot and if you ask me in a couple of days from now it will mean a lot more. In the rush of it at the moment I'm a little bit disappointed that I ran a poor tactical race in the last 500m and Terrence won't be happy! I think it's better to make the mistakes now rather than in Rio.
"I tried to run the smartest way I could to stay out of trouble. The first two laps I was just plodding at the back like I was out for a Sunday run. When I looked at the clock after the first lap I thought at least one person is going to go down. It's a shame and I feel bad for Charlie that it was him but he's got a whole lot of years ahead of him. He's running fantastically at the moment and he's going to have a hell of a career."
In an incredible women's 4x400m final that saw the first three teams separated by just 0.07 of a second, Margaret Adeoye (Linford Christie) brought the GB & NI team home to bronze. Returning to the track after winning the 400mH yesterday, Eilidh Child (Malcolm Arnold) got the team off to the perfect start before handing over to Kelly Massey (Stephen Ball), who ran the leg of a seasoned international relay runner despite being new to the team. She chose to settle into third place, before kicking past her competitors in the last 100m to put Shana Cox (George Williams) into the lead. Cox also ran strongly, perhaps just being pipped by Russia to the line, which meant it was all down to Adeoye to bring it home, and she did just that in an incredibly tight last 100m.
Reflecting on the team's best championships ever, Performance Director Neil Black said:
"It's great to see athletes performing well and converting. A large percentage of athletes with a genuine medal prospect converted and we all saw them being competitive and confident. There were some very impressive performances and I'm just chuffed."
Full results from the championships so far can be seen here: http://www.european-athletics.org/competitions/european-athletics-championships/2014/schedules-results/
GB & NI team performances:
GOLD – Jo Pavey – Women's 10,000m
GOLD – Mo Farah – Men's 10,000m
GOLD – Tiffany Porter – Women's 100m hurdles
GOLD – James Dasaolu – Men's 100m
GOLD – Martyn Rooney – Men's 400m
GOLD – Adam Gemili – Men's 200m
GOLD – Eilidh Child – Women's 400mH
GOLD – GB & NI – Men's 4x400m
GOLD – Mo Farah – Men's 5,000m
GOLD – GB & NI – Men's 4x100m
GOLD – Greg Rutherford – Men's Long Jump
GOLD – GB & NI – Women's 4x100m
SILVER – Andy Vernon – Men's 10,000
SILVER – William Sharman – Men's 110mH
SILVER – Matthew Hudson-Smith – Men's 400m
SILVER – Jodie Williams – Women's 200m
SILVER – Lynsey Sharp – Women's 800m
BRONZE – Ashleigh Nelson – Women's 100m
BRONZE – Harry Aikines Aryeetey – Men's 100m
BRONZE – Laura Weightman – Women's 1500m
BRONZE – Chris O'Hare – Men's 1500m
BRONZE – GB & NI – Women's 4x400m
BRONZE – Andy Vernon – Men's 5,000m
4th – Dwain Chambers – Men's 100m
4th – Christine Ohuruogu – Women's 400m
4th – Bianca Williams – Women's 200m
5th – Conrad Williams – Men's 400m
6th – Hannah England – Women's 1500m
7th – Desiree Henry – Women's 100m
7th – Jess Judd – Women's 800m
7th – Jo Pavey – Women's 5,000m
8th – Goldie Sayers – Women's Javelin