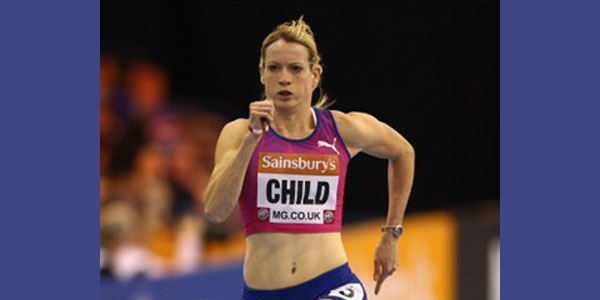 World 4x400m bronze medallist Eilidh Child will be a part of history as she lines up at the first ever athletics event at Hampden Park when she competes at the Sainsbury's Glasgow Grand Prix on 11-12 July 2014.
Child, who captained the first ever Scotland team at the annual Sainsbury's Glasgow International Match in January is relishing the prospect of racing in front of a home crowd in the only two-day Diamond League in the world in 2014.
"It's amazing to be able to compete at the Sainsbury's Glasgow Grand Prix. I had a little taster in January at the Emirates Arena and it surprised me how good the atmosphere was and how the crowd got behind the athletes.
"I think Hampden is going to be a completely different level from that in that it's a much bigger stadium and it's also going to be the host of the Commonwealth Games, so there's going to be a real buzz about it. As soon as it was announced that there was going to be a Diamond League there, it was perfect. When I raced at the test event before the Olympics, it was great to get a feel of the track and it would be nice to get a feel of Hampden in a big race so it's a little stepping stone before the Games."
As an avid Hearts fan, Child will be following the footsteps of some of her heroes that famously beat Edinburgh rivals Hibs 5-1 in the 2012 Scottish Cup Final. Whilst the 27 year unfortunately missed the club's biggest triumph in recent years, Hampden is a place that she holds close to her heart.
"When we beat them in the cup final, I was just about to compete, so I wasn't able to make it. But I was at Hampden in 2006 when they beat Hibs in the semi-final of the cup 4-0 and for a few Scotland games, so there are some really fond memories there. It's a lucky stadium for me, and it's always been nice weather so hopefully it will be a glorious day for the Sainsbury's Grand Prix. I keep thinking is it going to feel like the Hampden I know or am I going to go into it and not recognise it as Hampden?"
Rudi Skacel, who famously scored two goals in the 2012 triumph, was on hand to support Child in action at the Emirates Arena in January and admits that to cover the same ground and take in the same atmosphere at the Sainsbury's Glasgow Grand Prix is going to be an experience she will never forget.
"When I compete in July at the Sainsbury's Glasgow Grand Prix, it's not going to just feel like an athletics track, but a football home as well. When I've watched the players go there, score a goal and run in front of the fans that must be one of the most amazing feelings in the world. To step onto the same pitch and run it's nice to share that experience."
After winning individual European Indoor 400m silver at the start of 2013, Child went on to finish fifth in the 400m hurdles at the IAAF World Championships. On reflection, the hurdles specialist came away feeling slightly disappointed, but believes that running in the Sainsbury's Glasgow Grand Prix and other Diamond League events as a part of her schedule will benefit her performance heading into global championships.
"The Diamond League is really important. I sat down with my coach Malcolm at the end of the season after the World Championships and I was disappointed that I finished fifth. At the time I thought I could have done better, but we thought about how we can make that step up next year. Malcolm said it's all about exposing yourself more to the big races and competition and get you in as many Diamond League races as possible then that'll be great. It's great to know that the Sainsbury's Glasgow Grand Prix is another Diamond League which I can tick off the list and know that there's going to be great competition there and it's almost going to be a mini Commonwealth Games racing against world-class opposition.
"As an athlete, you always strive for improvement and if you said to me you'd finish fifth in the world and come away with a bronze medal in the 4x400m, I'd have taken that instantly. To actually come away with a medal and have a keepsake from a championships was the icing on the cake really and a great end to a great year for me."
Child, who was crowned the 2013 Scottish Athlete of the Year, goes into the outdoor season as undoubtedly one of the country's biggest prospects and despite the expectations, she keen to use this pressure as support.
"I'm just trying to enjoy what I'm doing. I don't know how I'll feel in terms of pressure nearer the Games, but it's nice everyone is getting excited about it and wanting me to do well. I meet people at the track when I come home and they say how much they want me to win and it's lovely to know that you have that support behind you, which is a huge positive.
"I always love having my family there to cheer me on and to have the majority of support cheering you on twice this summer as a home athlete is lovely. I see it as support as opposed to expectation and pressure and focussing on the job in hand rather than getting too carried away.