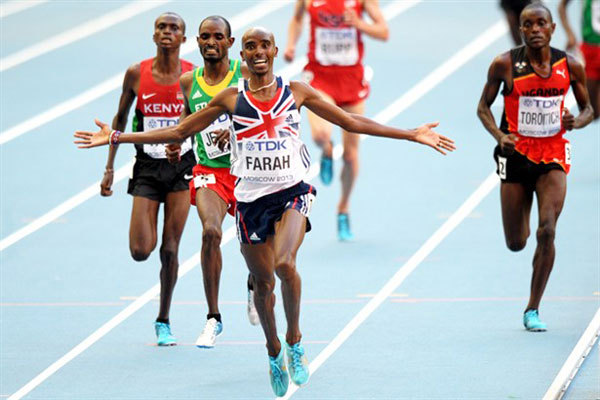 Mo Farah (coach: Alberto Salazar) and Christine Ohuruogu (Lloyd Cowan) have been named Male and Female British Athletes of the Year following a total of over 15,000 public votes on the British Athletics Facebook page.
Katarina Johnson-Thompson (Mike Holmes) was victorious in the Young Athlete of the Year category while Lloyd Cowan was voted Coach of the Year. The British public also voted for Cardiff AAC as Club of the Year and Mark and Dawn Hookway as Volunteers of the Year.
Farah won this award after another spectacular year in 2013 which has seen him win gold over both 5,000m and 10,000m at the IAAF World Championships in Moscow in August and set a new European 1500m record with a time of 3:28.61 in Monaco. The 30 year old, who also won double gold at the London 2012 Olympics, collected 46% of the vote.
Ohuruogu set a new British 400m record of 49.41 en route to winning her second world title in Moscow and was a runaway winner in the Female Athlete of the Year category with 50% of the total vote.
Ohuruogu said: "Winning this award is an amazing honour and it tops off a great year for me; winning gold and setting a new British record in Moscow was one of the highlights of my career. There were so many great performances from British women this year but I'm flattered that the public have voted for me.
"It's obviously great to win medals on the track but it's extra special to be given awards like this that have been voted for by people involved in athletics."
In the Young Athlete of the Year category, 20 year old Johnson-Thompson, who finished fifth in the heptathlon in Moscow, held off competition from the likes of European Athletics Team Championships 800m champion Jessica Judd (Rob Denmark) to win with 39% of the votes.
Johnson-Thompson, the 2012 world junior long jump champion, said: "To win any award is a big thing for me but to win the British Athletics Young Athlete of the Year is amazing. To be recognised by the fans of the sport is something special and for that I'm enormously grateful to everyone that took the time to vote for me.
"2013 went really well for me. To finish fifth at the World Championships with a personal best was incredible and the experience will stand me in good stead in the future. I can't wait for 2014 and I'm determined to improve year on year to fulfil my athletics ambitions."
After masterminding Ohuruogu's World Championships success, Lloyd Cowan has been crowned Coach of the Year. Cowan fought off competition from Jenni Banks, coach to double IPC world champion Hannah Cockroft, and Steve Fudge, who guided James Dasaolu to a European indoor 60m silver medal and Jonnie Peacock who won T44 100m gold at the IPC World Championships.
Mark and Dawn Hookway have been voted Volunteers of the Year in recognition of their work at Tonbridge Wells AC. The couple have transformed the endurance setup at the club of 2004 double Olympic champion Kelly Holmes which has resulted in a number of national medals at youth and junior events.
Cardiff AAC, club of Paralympic champion Aled Davies (Anthony Hughes) amongst a number of GB & NI internationals, have been named as Club of the Year after a year that has seen them win promotion to the BAL Premiership.
The top three in each category are below:
Male Athlete of the Year
Mo Farah – 46%
Richard Whitehead – 24%
Adam Gemili – 18%
Female Athlete of the Year
Christine Ohuruogu – 50%
Hannah Cockroft – 28%
Perri Shakes-Drayton – 13%
Young Athlete of the Year
Katarina Johnson-Thompson – 39%
Jessica Judd – 20%
Rhys Jones – 11%
Coach of the Year
Lloyd Cowan – 25%
Jenni Banks – 21%
Steve Fudge – 19%
Volunteer of the Year
Mark and Dawn Hookway – 31%
Nathan Jones – 28%
Raymond Black – 22%
Club of the Year
Cardiff AAC – 32%
Bristol & West AC – 29%
Edinburgh AC – 21%