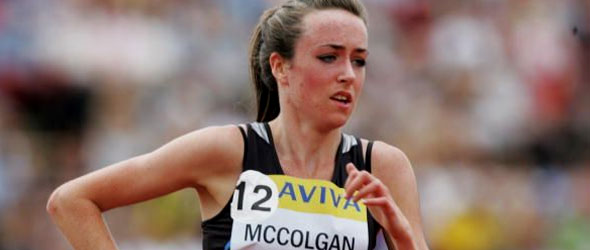 Over 40 Scots had entered the first of this year's BMC Grand Prix meetings in Manchester's Sports City on Saturday night. Despite the cold and breezy weather there were more than 16 Personal Bests by the Scottish contingent as well as several individual race victories and two performances inside the European U23 Qualifying guidelines.
In the A races there were victories for Bruce Raeside (Notts AC) in a lifetime best of 3.41.69 and Lynsey Sharp (Edinburgh) in the 800m. Other victories in the 800m series came from Craig Stuart (Kilbarchan) in the D race from Tom Watson (Central AC) in the F and Amanda Campbell in the Women's C races, all in personal bests.
There was another victory in the 1500m races from Cameron Boyek (Silsden) reducing his PB by 5 seconds to 3.49.45. Other PBs in the metric mile came from Stewart Orr (Ronhill Cambuslang); Josephine Moultrie (VP Glasgow); Natalie Sharp (Kilbarchan); and Emily Stewart (Edinburgh).
At the end of the night when the wind eased slightly but temperatures also dropped there were a series of 5000m races. Most notable performances were Eilish McColgan (Dundee Hawkhill) in 4th and Beth Potter (VP Glasgow) in 6th in the women's race, their times of 15.53.27 and 15.55.83 were inside the European U23 5000m qualifying standard. In the same race there were also PBs for Elspeth Curran (Kilbarchan) and Sarah Inglis (Lothian). The final event of the night produced another Scottish victory by Chris Powner (Winchester) in the B5000m. There were more 5K lifetime bests by Sam Bradley (Tonbridge) Craig Ruddy (Inverclyde) and David Vernon (VP Glasgow).