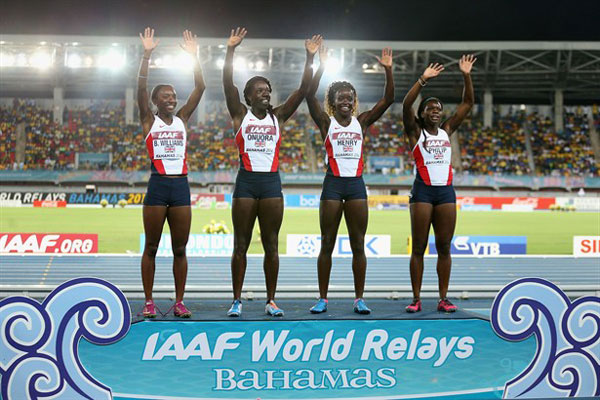 A women's 4x200m national record was the Great Britain & Northern Ireland highlight on the final day of the IAAF World Relay Championships.
There was also a bronze medal for the men's 4x100m in Nassau, Bahamas.
A time of 1:29.61 from Desiree Henry (coach: Rana Reider), Anyika Onuora (Reider), Bianca Williams (Lloyd Cowan) and Asha Philip (Christine Bowmaker) secured a silver medal – GB & NI's first ever medal at these inaugural championships.
"This is just the start for us in the women's relay," said Onuora.
"We just wanted to put a marker down for Commonwealths and Europeans. The competition is going to be hot to get in the team.
"We are really pleased we came away with a silver medal."
Shortly after the women's triumph, the men's 4x100m finished third with 38.19. Earlier in the evening, Richard Kilty (Reider), Harry Aikines-Aryeetey (Reider), James Ellington (Reider) and Danny Talbot (Dan Cossins) clocked 37.93 in heat one – fourth fastest ever in British history.
"It was a solid performance," said Ellington.
"To be honest we are a bit disappointed because we know we could have challenged for the gold. The aim was to break the British record in the final as we ran 37.93 in the heat."
World Indoor champion Richard Kilty added: "We ran a really quick time in the heats. There is a lot more to come from this team and it's only early season. To come here get the baton round and win a medal blows away all the demons."
Elsewhere the men's 4x400m finished fourth, with Nigel Levine (Linford Christie) running the third leg with only one shoe.
"My left shoe came off. The guy stepped on my spike and it came flying off," revealed Levine.
"I was like okay keep on moving. It's a team thing, I'm not going to stop, I will run with my socks on but hey I ran my socks off."
There was disappointment for the women's 4x400m with a seventh place finish.
"It's very early season and we are all at different stages," said Christine Ohuruogu.
"That was my first opener and it wasn't a very good run. People are scared of us but we have to come together at the right time. There is nothing to worry about. It was a hard race and we've had a good few days of work together.
"We are disappointed and we knew it was going to be tough from yesterday."